A Wedding Day Survival Kit is an ABSOULTE must for your big day! On such a special day you want to be prepared for it all & trust us when we say you need to be prepared for EVERYTHING!. While we hope that you don't have any emergencies , we would like to prepare you just in case!
This would be ideal for the maid of honour to pack in a little bag for the bride, that can be easily accessed at all times.
Here are some key items to include in your kit:
Deodorant - The bride will most likely be sweating a lot with nerves and excitement kicking in. We want her smelling fresh at all times! You can find the tiny travel size at several drug stores.
Breath mints / Gum- The bride is going to be talking to a lot of people & you want her ready for that special kiss.
Vitamin C Packets - These are great to mix in with the brides water if she's feeling like she needs that little boost.
Snacks - Granola bars are the perfect small snack in case the bride needs a little energy.
Tums / Aspirin - Great for that upset stomach on the big day.
Hair Spray - Keep all those stray hairs in place.
Tissues - To dab away those happy tears.
Stain Remover - A tide-to-go pen is perfect for any spills that may happen.
Sewing Kit - To fix any loose ends or rips that may occur
Lip Balm / Lip Stick - Keep those lips plump & moisturized for that first kiss.
Static Guard - The dress may need a little spray!
Lint Roller - Awesome to get off that last minute lint or hair.
Double Sided Tape - Perfect for those just-in-case slips.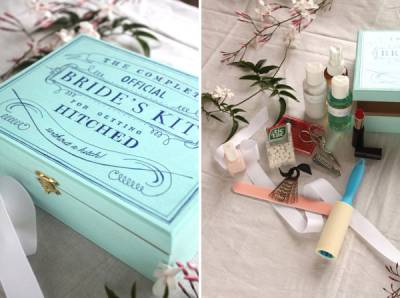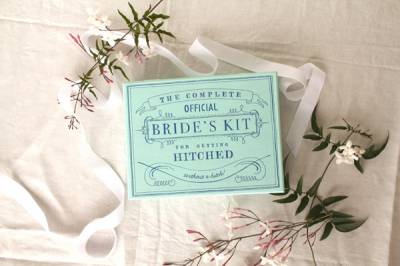 A prepared bride is a happy bride!