Made with Love has arrived at P&D and we couldn't be more in love with the dresses! Made with Love has amazing modernized gowns, with unique laces and the most amazing long trains. Once you slip into each one of these gowns you will feel like one of a kind.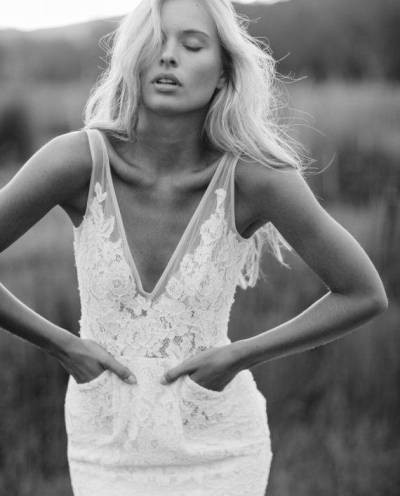 Willow: "Striking V-neckline plunge complements the delicate tulle and lace with which she is made. Her waist draws in, before spilling out in layer upon layer of the softest tulle you've ever felt, ever worn, ever touched."
Frankie: "Dares to plunge deeply in the front as her floral lace decorates the bodice, only to reveal her back so gloriously defined with a standout low V-backline."
Sasha: "She is made out of the most gorgeous crochet lace that delicately covers a tan underlay creating so much contrast and her invisible neckline."
Harper: "As detailed as she is refined, as exquisite as she is understated, as heavenly as she is earth-born, Harper lures and intrigues all who know her. Her french crepe body, stitched in and boned for support, heralds her bride's feminine curves. Harper's bold and esteemed V-neckline introduces the splendor to come, before pulling into the waist and drawing to a crisp finish the V-back."
You can see Made with Love gowns featured on our Instagram @pearlanddot and Made with Love @madeiwthlovebridal .