Woke up feeling quite Gossip Girl-esque today and thought it would be nice to share a fancy cocktail that you can easily make at home! We all have those days where you just do not have the time or energy to get in your car and hit up the new hot spot in town, so instead, this little number can be whipped up at home. This cocktail uses a lot of the items you may already have in your fridge or pantry, so get shakin' & stirin' babe!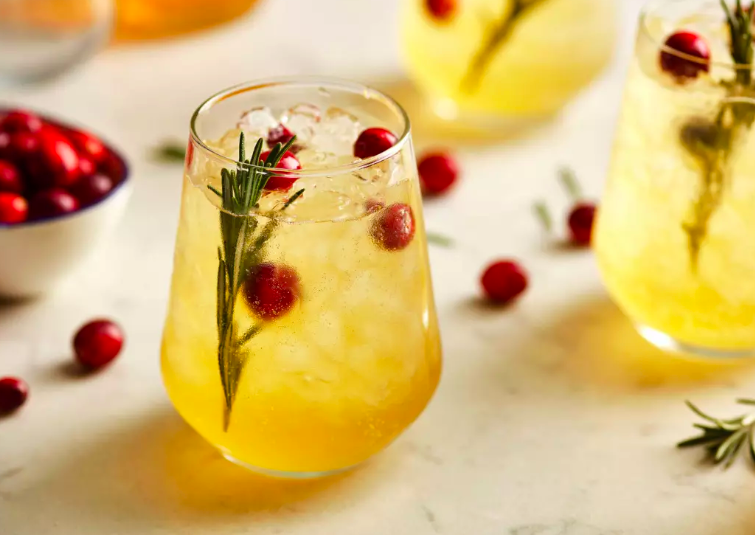 A cocktail that is said to make your skin glow is a obvious MUST! The ladies at Mind Body Green swear by the key ingredients; cranberries, turmeric, and ginger for their superfood skin activating properties. The kick of Vitamin C and anti-inflammatory spices are what brings this cocktail up to Gossip Girl standards! Have fun making it!
Serves 4 to 5
Ingredients
Juice of 2 oranges (reserve peel for garnish)
¼ cup coconut sugar
½ teaspoon cinnamon
½ teaspoon turmeric
½ teaspoon ginger
1 cup fresh or frozen cranberries
5 ounces vodka
Sparkling water
Sprig of rosemary, for garnish
Method
To make the cranberry puree: In a medium saucepan, combine orange juice, coconut sugar, cinnamon, ginger, turmeric, and cranberries. Cook over low heat for 10 minutes. Set aside and let it cool. Blend the cranberry mixture in a blender, then strain.
Fill a cocktail shaker with ice. Add the cranberry puree and the vodka and shake well; strain into 4 to 5 glasses. Top with sparkling water, and garnish with a rosemary sprig and an orange wedge.
Thank you to Liz Moody at Mind Body Green for her skin glowing cocktail recipe!
P&D xo